It is reported that the average temperatures will increase from 1ºC to 2ºC from now until 2050 which will lead to a rise in the number of natural disasters such as droughts, landslides, and sea-level risings. This will directly hinder many people's lives, and children are among the most vulnerable group to experience environmental hazards.
Education is crucial for the future generation: it is the key to fighting poverty and helping global citizens to become self-reliant. However, global warming will continue to have unpleasant effects on children, in the long run, inhibiting them from accessing education.
CLIMATE CHANGE WEAKENS EDUCATION
As their physical and mental health have yet to develop fully, children are susceptible to negative effects of climate change on their health including emotional damages, injuries, and even death.
Climate change has warmed the weather in various regions, accelerating storming, floods, and landslides. With a single impact of a landslide, for example, a whole school can be destroyed. If this was an unexpected case, students might lose their lives or be critically injured.
Not only does global warming cause the average temperature to rise but it has also resulted in inconsistent weather patterns. For instance, extreme cold is happening more rapidly and severely in Northern America or European countries. When snow lingers, students might have to postpone their studies for a longer period of time. Some might face the dangers of catching respiratory diseases or have a low body temperature which is extremely detrimental to youngsters' development.
These tremendous consequences can make the learning path of privileged and underprivileged children more hazardous, preventing them to gain better knowledge and skills.
POOR CHILDREN ARE AT GREATER RISK
"Mom, I'm thirsty!"

"I know my dear, we ran out of water."

"Mom, I'm hungry!"

"My dear, drought has killed all the crops."
If the weather is colder, ordinary children can wear more clothes while going to school. If the day is hotter, urban schools can turn on the air conditioning to cool down the heat in classrooms.
This would never be the case for impoverished students. They do not even have basic needs such as food and clean water because changing climate has increased drought and desertification which led to food shortages and curbed income of agricultural households.
"Children living in developing countries face the greatest risks of all, not because climate change effects will be any worse there than in other countries, but because poverty limits their ability to respond.", says United Nations Children's Fund (UNICEF).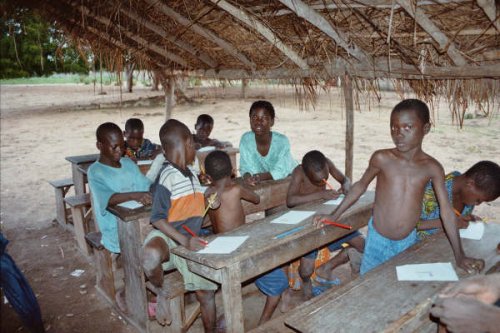 According to World Bank, 132 million people will face poverty over the next decade because of climate change. Because agricultural families lost their revenues and food sources when natural disasters occur more frequently, they will be unable to pay school fees, and children of those households might be forced to drop out of school to do manual labor jobs.
At Project Sprouts, we realize that we can not solve all the problems relating to this. But we can seek to make a difference in the lives of needy children by giving them school supplies and encouraging them to continue their education; we can give them winter coats, boots, and blankets to help them stay warm during the cold winter months.
Project Sprouts would love to have you be a part of our community and help us to help worthy children in North Vietnam. 
You can find out more about Project Sprouts by clicking here or go to our give now page to donate by clicking here. As we are a grassroots organization, all funds go to help those in need.
Related Content:
3 Reasons Why Vietnamese Ethnic Minority Are Poor
According to the World Bank's statistics, the poverty rate in Vietnam has declined dramatically from around 70 percent to below 6 percent since 2002.
However, the unsolvable issue with poverty in Vietnam is that more than 70% of the impoverished population comes from Ethnic minorities (measured using Vietnam's poverty line). Despite several solutions and policies, Ethnic poverty is strongly persistent in Vietnam: poor children have to leave school, adults struggle to be employed.
Why Is This The Case? What are the causes of Ethnic Poverty?
You can read more by reading by 3 Reasons Why Vietnamese Ethnic Minority Are Poor by clicking here
How Can Education Help Fight Poverty?
The United Nations' 4th Sustainable Development Goal – Quality Education has emphasized the importance of education in combating not only poverty but also other societal issues.
Learning how education can support impoverished people will help you understand why the world needs education and what the mission of Project Sprouts is
You can read more by reading How Can Education Help Fight Poverty? by clicking here